You Deserve Professional Senior Advice

How do you know you're dealing with someone who understands the needs of seniors? Here's what to look for...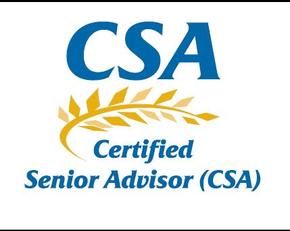 When you work with a professional who has added the CSA designation to his or her achievements, you know you're working with someone who has invested the time and effort in learning about the things that are important to
you
.
Certified Senior Advisors (CSAs) are the only professionals who have:
Met the personal integrity requirements of Society of Certified Senior Advisors' (SCSA) Disclosure Questionnaire
Demonstrated a knowledge of the key health, financial and social issues of the most importance to seniors
Agreed to follow the CSA Code of Professional Responsibility, which promotes high ethical business practices
---
•Important: Certified Senior Advisors (CSA) have supplemented their individual professional licenses, credentials and education with knowledge about aging and working with seniors. The CSA designation alone does not imply expertise in financial, health or social matters. For additional information, go to www.csa.us.
What Do CSAs Do?

With their special knowledge, CSAs are better equipped to...
•Recognize and understand seniors' needs •Create an environment where seniors are comfortable expressing themselves
•Relate and communicate with seniors •Give seniors time to digest information
•Serve as a guide and resource of information, •Encourage seniors to ask questions, seek more information and consider
organizations and other qualified professionals available options
•Support seniors in decision making •Assist seniors in making their own decisions


Who Are CSAs?

Typically, CSAs already have expertise in a professional discipline within the health, social, and financial fields. We work together to best meet the unique needs of the senior clients we serve.

Health


•Geriatricians

•Geriatric Care Managers

•Home Health Agencies

•Rehabilitation Centers

•Medical Equipment Suppliers

•Prescription Consultants

•In-home Services

Social


•Housing Needs

•Transportation

•Support Groups

•Pastoral Care

•Adult Day Care

•Senior Centers

Financial


•Financial Planner

•CPAs/Accountants/Enrolled Agents

•Attorney/Elder Lawyer

•Insurance Advisor

•Real Estate Agent

•Reverse Mortgage Professional
Senior Spirit is our monthly e-newsletter that features the latest news on the important issues facing seniors, their families and those who work with them. Each issue contains comprehensive articles on medical news, financial topics and lifestyle trends - all straight from the expert. Sign up today to receive these each month by clicking the link above.

---

You Deserve Professional Senior Advice...



To learn more about how a CSA can serve you and your senior care needs, click the brochure at left to download.


---
•Please be sure to click on the tab at the top of this page, under "CSA", to take advantage of many free and helpful resources!•